She also cautioned buyers to recognize whether the home they liked was considered A-grade and attracting interest from other parties.
In Melbourne, lowball bids are becoming more common in the affordable outer western suburbs, Barry Plant Melton's Ned Nikolic said.
"People are listening to the news, and seeing that there's not as many people at the opens," he said. "People can try, but in reality it is not happening — in reality it is just offending the owners.
"I don't think owners are desperate to sell; the vendors' motivations haven't changed in the last two or three months."
He said genuine buyers who made a reasonable offer were the ones winning properties.
Someone who could not afford a property they liked might be better served by explaining their budget to the agent and asking whether it was worth trying or not, or leaving their details in case the home was still on the market in a month or two, he said.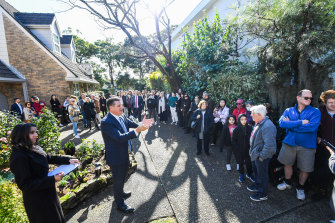 OBrien Real Estate Frankston's Mark Burke is fielding lowball offers from potential buyers who have not even seen a property, perhaps investors offering 10 per cent below the bottom of a price guide.
"The market is not armageddon," he said. "There's certainly an adjustment.
"If you get too smug and smart alec, the owners won't take it seriously."
loading
He recommended first home buyers on limited budgets set a limit and bid to their limit at auction, or contact him straight away after a home they like passes in at auction, although he felt few auctions in his area were passing in. Anyone who wanted to make an offer at a low price should be prepared to go higher during negotiations, he said.
Other buyers are making low opening bids at auction, in contrast to the knockout opening bids more common during the market's peak growth phase last year.
On Saturday, a Hunters Hill house fielded a low opening bid of $3 million, which the auctioneer knocked back as it was well below the $3.8 million price guide. The home sold for $4.47 million.
Although Ray White Surry Hills' Ercan Ersan has not received lowball offers yet in this cycle, he has had buyers start bidding lower than the price guide at auction.
He had a recent auction with a price guide of $1.4 million to $1.5 million that drew three bidders. It began at $1.3 million and closed with a $1.51 million sale. He wondered if the result would have been the same if the opening bidder had begun with a bold bidder of $1.5 million.
"I've always been a big advocate of being quite bullish with bidding," he said, advising buyers on a budget to bid confidently to their limit and not get emotional or overspend.
"Whatever the property is worth, it is going to get there."