WA Police say they will continue searching for a Perth man missing off the Midwest WA coast tomorrow.
Key points:
Search at Green Head to resume at first light
Perth man Ian Gray reported missing Sunday evening
Police conduct land, air and marine searches
Police said today's search was called off due to adverse weather conditions.
Waikiki resident Ian Gray, 46, was reported missing just after 6pm yesterday when he failed to return from a solo fishing trip off the Green Head coast.
He had parted earlier in the afternoon.
Midwest Gascoyne District Acting Superintendent Jon Munday said police held serious concerns for Mr Gray.
He said the search started last night and they have been using land, sea and air assets from police and other agencies, including the Australian Maritime Safety Authority search and rescue jet.
"All we're doing at the moment is conducting [an] extensive marine environment search and coastal environment search," he said.
"First light this morning we've had SES volunteers on the ground searching the beaches, we've had several Volunteer Marine Rescue vessels in the water."
He said a Department of Fisheries vessel had also joined the search.
Mr Munday said sea conditions had been hampering efforts.
"There is a large swell running," he said.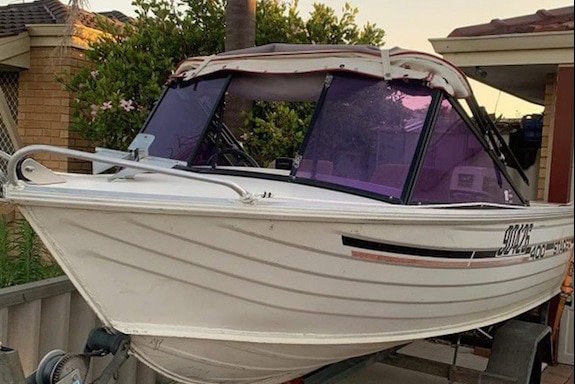 Mr Munday said police were unsure what safety gear Mr Gray had onboard but no emergency beacon was activated.
"Family have told us that he has basic safety gear so we're hoping he's got life jackets and flares and all that sort of stuff," he said.
"But he's in a reasonably small vessel — it's a 4.2-meter open dinghy.
Mr Munday said the Green Head coastline was not notably dangerous and Mr Gray was familiar with the area.
"Mr Gray does know the area well, he does have a family in Green Head and he has fished that location very regularly," he said.
He said they just wanted answers.
"Hopefully we will still find Mr Gray alive," he said.
Mr Gray is one of two people reported missing off the Midwest coast yesterday.
A crew member from a Chinese bulk carrier is in a stable condition after spending 14 hours in the ocean overnight.
The man, a Chinese national in his 30s, was reported missing from the ship anchored 11 kilometers out of Geraldton on Sunday evening.
He was taken to the Geraldton Regional Hospital for medical examination, with police and the Australian Border Force in attendance.
.