On the latest cover of fashion Australia, Snapchat co-founder Evan Spiegel is a trim example of billionaire-tech-giant dressing. Rather than being fashion forward, Spiegel's outfit of a white T-shirt and jeans is fashion neutral, with the potential to shift into reverse.
Alongside his supermodel and beauty entrepreneur wife, Miranda Kerr, in an apron-style shirt from Fendi, Spiegel wears a normcore T-shirt from Louis Vuitton (the jeans are his own), but you can get the look for less from Just Jeans, or OshKosh b'gosh.
Inside the issue, Kerr wears a fabulous floral Marine Serre sleeveless dress, a pink crushed velvet skirt from Acne and an elaborate gold Louis Vuitton dress. Spiegel sticks to the suburban barista uniform of jeans and a T-shirt.
Fellow famous members of the brainy basics club, where prints, bold colours, defined silhouettes and slogans are deleted from the wardrobe, include Facebook's T-shirt-loving Mark Zuckerberg and Atlassian's hoodie aficionado Mike Cannon-Brookes.
"Think Steve Jobs and his black skivvies, which partly operated as conspicuous casual, but also became a personal brand and a form of uniform," says Chris Cheser, senior lecturer in digital cultures at the University of Sydney. "Other tech leaders opt for T-shirts."
"This reflects the identity of youthful university-age nerdism from which many start-ups grew. It also projects the everyday-ness of consumer technology, eschewing any intimidation of expertise."
This tech bro uniform, along with red hoodies and gray sweaters, has become as predictable in Silicon Valley circles as ping-pong tables and bean bags in IT offices, but desperately needs an update.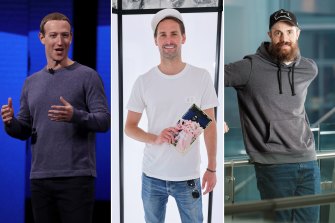 Last year, fashion brands such as Gucci, Burberry and Balenciaga contributed to more than $US40 billion ($57 billion) in NFT sales globally, with a digital Glass Suit from controversial Italian designers Dolce & Gabbana selling for $US1 million in October.